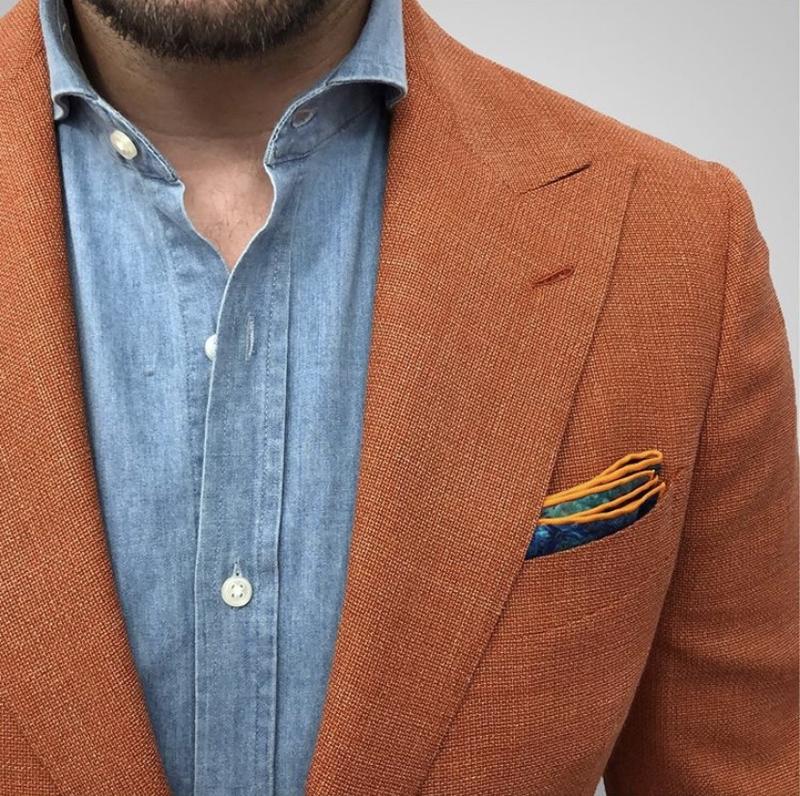 Bold Yet Subtle Spring/Summer Style- The Orange Hopsack Custom Jacket
Click to View
One of the best parts about spring and summer is all the colors that we can add back into our daily wear after a long and muted winter. Don't mistake; we love winter and all the textures, layers, and patterns that come with it. There is, however, something close to our hearts when it comes to the colors that one can wear when it gets a little warmer. From very bold colors and patterns to just a bit, more playful of a look, it is an excellent time for a man to have fun with his style.
The orange hopsack jacket is a perfect starter piece for those looking to up their spring/summer game. The jacket is a shade of orange that is more subdued but is most certainly a color for warmer weather. This jacket is very versatile and you do not have to be bold to wear it. You can use your shirt, trousers, and accessories to tone down the orange considerably, or if you like, make it stand out. As we have talked about before there are far more ways to express your personality and introduce yourself to the world with dressing in tailored clothing.  For those of you who intimidated by this jacket or want some direction here are a few ways to do it well.
How to Wear the Orange Hopsack Jacket
The Dressed-Down Look
We know that many of you want to keep a more low-key look and that is very doable with this color. Pairing this jacket with a pair of washed jeans and an open-collared shirt makes this a sophisticated look that subtly stands out. If you feel like you need to be overly confident to wear this color,  we are here to tell you that the key to pulling this off is nothing more than openness to trying something new. You are sure to be noticed, not because this look is bold, but because wearing a seasonally appropriate color is eye-catching. Others will notice you because you have a wonderful sense of style.
The Semi-Subtle Look
Another great look is pairing this jacket with a chambray shirt, some cream colored trousers and a pocket square that compliments the jacket gives a clean look that is full of personality. If you notice adding color and texture brings a bit more contrast to the look. This look is far from being too bold for the average man to wear. If you are not used to seasonal colors, it might feel like it is too bright for you, but we promise this is a one most of you can pull off. If you are comfortable with color or have worn the 'dressed down' look a few times, we suggest giving this one a try.
The Bold Look
Pairing this jacket with a more colorful or patterned shirt, trouser, or accessories will undoubtedly give you a bold look that is sure to be noticed. When combined with other more bold colors and patterns, this jacket can stand out in a crowd, while still looking professional. Just be sure not to wear too many bold items as it can get out of hand quickly. If you want this bold look, we suggest having one piece be more daring than the jacket and keeping the other more subtle so that you create a very balanced look.
While we feel that every man's wardrobe should be bursting with our custom clothing, we are not saying that everyone needs an orange custom jacket. We are saying that this color is an excellent way to jump into some more seasonally appropriate clothing or add to an already seasonally savvy rotation. Once you have the basics covered, which can vary depending on how often you wear tailored clothing, the next step is to get seasonal clothing that fits only one or two seasons. Building your wardrobe this way increases your options endlessly while making your look ever more sophisticated. So do you need an orange hopsack jacket? No, but adding this color to your wardrobe will bring excitement every season, knowing you have a unique piece to wear.